The Manchester Chorale is a busy, high-quality, mixed choir based in Manchester, UK
Looking for a choir to join? We're especially looking for basses at the moment, and of course tenors are always welcome to apply!
What's happening in The Chorale?
See where are we performing.
Thinking about booking The Chorale?
Want to reserve tickets for concerts organised by The Chorale?
___________________
In 2020, to celebrate our 40th anniversary, we commissioned a Choral Composition Competition. We were finally able to perform the top three at St Ann's Church, Manchester on 2 July 2022. Here are the Winners
In second place was Martin Neill for his song "Sing for Joy" Sing for Joy - YouTube
Third prize went to Lydia Jane Pugh for her setting of "Your Words Give Light" Your Words Give Light - YouTube
Coming next:
Manchester Chorale Tour to Kilkenny
We performed a joint concert with the choir of St Canice Cathedral, and sang for the Sunday morning service there. Can you spot the chorister that was in both choirs?

At Easter it was good to be back at the Bridgewater Hall with
Where Sir Karl Jenkins conducted us and the Manchester Concert Orchestra in a superb selection of his most popular works, including The Armed Man : A Mass For Peace, with sublime excerpts from Symphonic Adiemus and Palladio.
Our previous concert was at St Bernadette's Church, Whitefield,
singing an eclectic mix of songs in styles from around the world.
£500 raised for the Social Centre Renovation Fund!
Our final performance of 2021!
Christmas Carol Singalong
with Jonathan Cohen, Louise Dearman
and the Manchester Concert Orchestra
on Christmas Eve at 3.00pm
Bridgewater Hall
Here we are, sparkling, festive, and ready to go for the second half of the Christmas Singalong at
The Bridgewater Hall
. A wonderful evening, with a superb audience and the enthusiasm of Jonathan Cohen at the helm. A great end to a year when we got back singing again. Here's to much more singing in the New Year!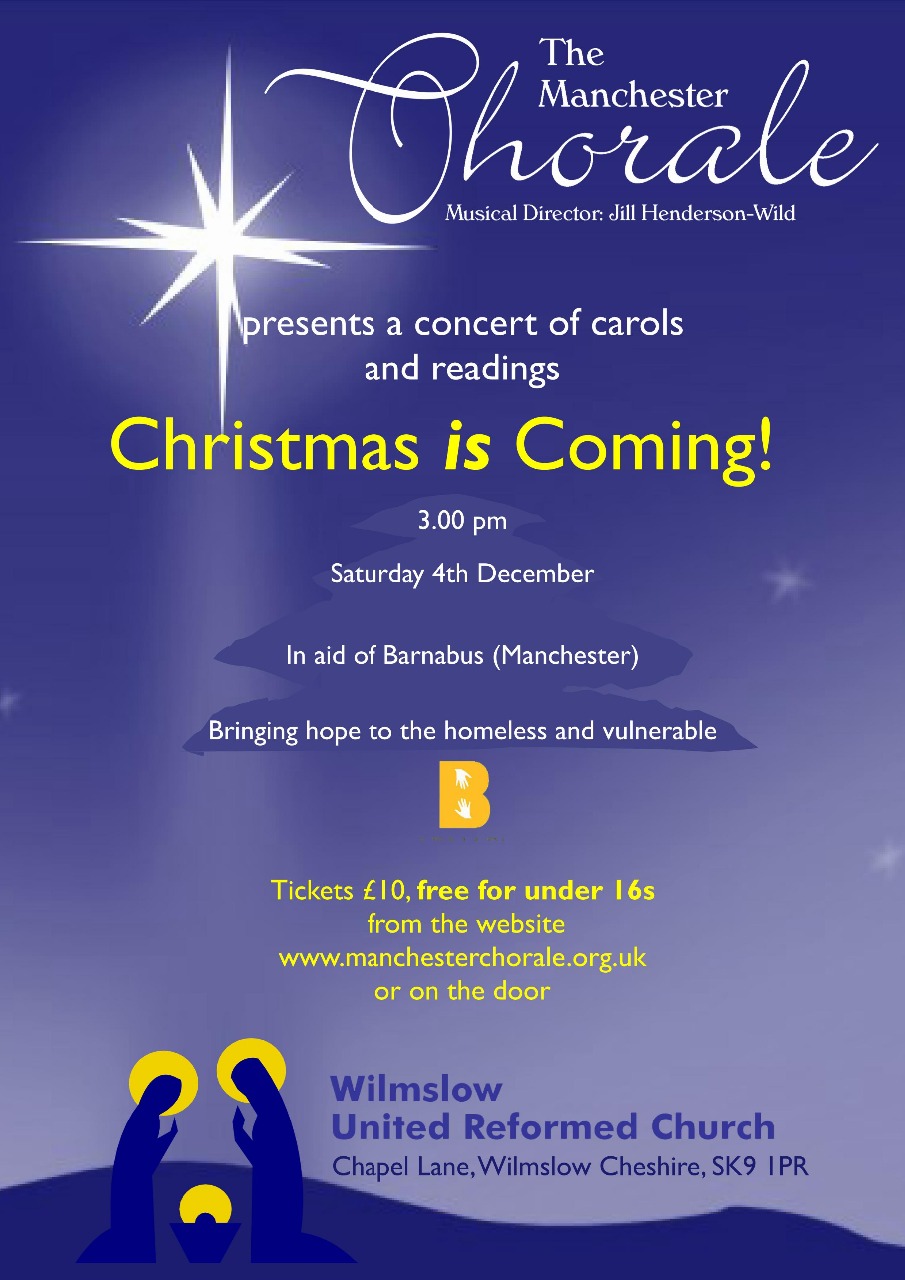 Our last Concert
We had a lovely time singing for a large audience! Here are some pictures.
Just before the summer break we squeezed in an outdoor rehearsal, and had enormous fun:
During the first lockdown we recorded a 'Virtual Choir' video of Will Todd's "Like a Rainbow Shining", and in our final three rehearsals before Christmas we set ourselves the challenge of singing all 100 in the much loved book, "100 Carols for Choirs" - a mammoth task - with sponsorship and donations going to the Manchester Barnabus Appeal. By the end of the final rehearsal a whopping £849 had been raised!
Here we are in our Christmas bling, singing the carols:
Some of our themed Zoom rehearsals during Lockdown - can you guess the themes??